Weekly Timesheet Plugin
This Plugin provides the capability to submit weekly timesheets within redmine. The user must be a member of a project with permission to log time. If the user has permission to manage other team members, he can manage their timesheets as well. This plugin uses the Time Entry model and presents them in a weekly view. New Timesheets can be entered using the link 'New Timesheet', new issues can be added to the timesheet using the 'Add Row' link.
Uswers without Edit permissions cannot edit/delete time entries. The timesheet can be exported into pd
The following configurations can be made on the plugin
– size of the dropdown components
– inclusion of previous week's closed issues
– check for max daily hours
– parameters of pdf export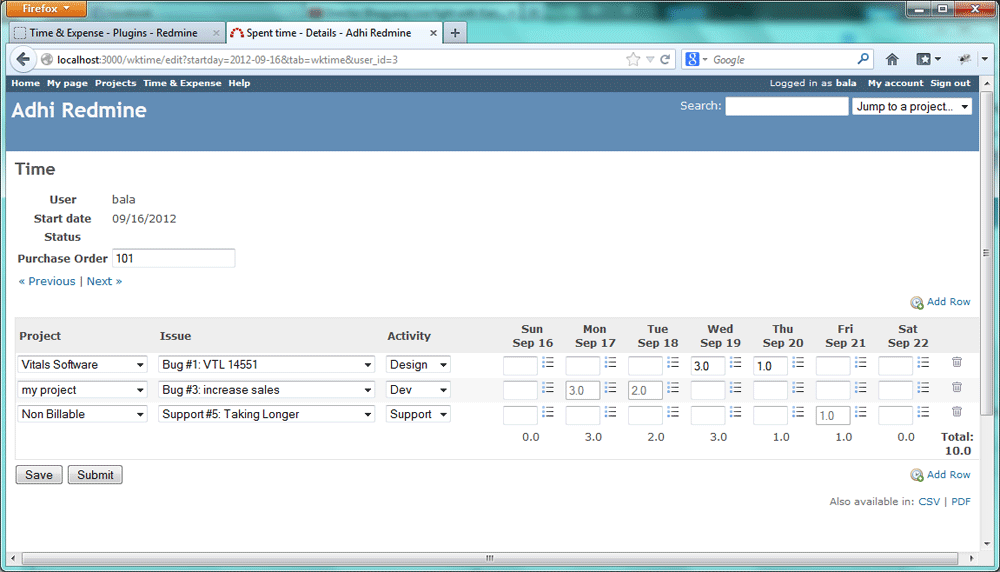 Current Release:
The latest release of Timesheet plugin is 1.0 and was released on July 12, 2012.
This release is compatible with redmine 2.x
It Can be downloaded from
www.redmine.org/plugins/wk-time
Installation : Just unpack the zip file to the plugins folder of Redmine, it should start working fine. This plugin uses js and css assets and it will be copied to public/plugin_asset/redmine_wktime folder upon server startup, so please make sure public/plugin_asset/redmine_wktime folder has proper permissions.