An Intranet Portal is a web space which is accessible only within the company's network, providing access to key portlets like Dashboards, Mail, Calendar, Polls, Chats, Announcements etc. It can be quickly built using the tools like Microsoft Sharepoint, Google Sites, WordPress, Twiki , etc.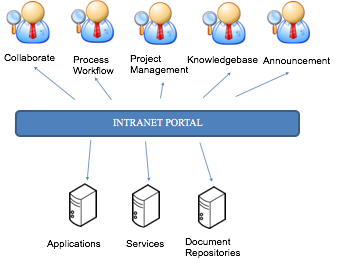 Communication
The portal will serve as an effective communication tool between the Management and the Employees. The Management can clearly communicate their Vision and Roadmap to the entire organization quickly
Repository
The portal can serve as a Document Repository for the Organization. Documents like Templates, Forms, Policies, Guidelines etc can be published following a Review / Approval process.
Collaboration
Employees can collaborate with each other using discussion forums, Chat, Polls, Photo gallery etc.All Software Applications and Services can be seamlessly integrated into the Portal. Corporate security ( Authentication and Authorization )can be applied through SSO (Single Sign On)
Twiki and WordPress are open source alternatives to the commercial tools like Google Sites and MS Sharepoint.